For the past decade, The Elmezzi Foundation has supported the "I Have A Dream" Foundation NY Ravenswood II program. This year the first group of students we began sponsoring as third graders back in 2005/2006 will graduate from high school. Even better, all of the eligible students in the program have been enrolled in college!
The Dreamers (as students of the Ravenswood II program are known) will be attending schools ranging from the CUNY and SUNY systems, to out-of-state public and private universities, and even an Ivy League! Dreamers will continue to receive last dollar tuition support from The Elmezzi Foundation as well as guidance from the IHDFNY Program Directors during their college trajectory.
Last Monday, June 8 we held a congratulatory reception for the Dreamers as a recognition of their success. At the event, our Chairman, Jose Rivero and Executive Director, Pooja Joshi O'Hanlon gave their remarks and congratulated them on all their hard work. Council Member Costa Constantinides also attended to express how impressed he was with the students and handed out citations from his office to each graduating Dreamer! In the picture below you can see our Chairman, Executive Director, and Council Member Constantinides and the Dreamers.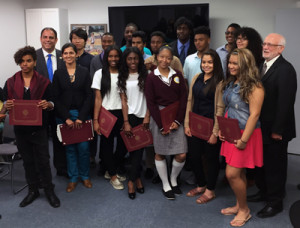 The story was briefly profiled in NY1 last week as well as in the Queens Times as we as the Queens Chronicle! We are immensely proud of everything the Ravenswood II Dreamers have persisted through and accomplished. We're excited to continue supporting these students in college and we know they will accomplish wonderful things! Click the thumbnail below to check out the NY 1 video coverage of our congratulatory event for the Ravenswood II  Dreamers.