On Thursday, March 19 The Elmezzi Foundation, in collaboration with Splashes of Hope and Extraordinary People In Care (EPIC) Long Island, helped to unveil the vibrant murals that now lighten up the walls of the South Shore Child Guidance Center.
EPIC elaborates in their press r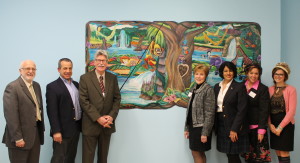 elease: "It began with a phone call to EPIC LI's President and CEO Thomas Hopkins from Alfred LaRosa, board member of the Elmezzi Foundation, which has provided funding for EPIC Long Island programs… Mr. LaRosa mentioned that the Foundation had been working with Splashes of Hope, a nonprofit that creates colorful, hand-painted murals to brighten hospitals, clinics, and other healthcare facilities. As it happened, EPIC had recently formed a strategic alliance with South Shore Child Guidance Center, a Freeport-based comprehensive outpatient behavioral health service for children who live in Nassau County."
The press release further notes that the murals reflect the four seasons and landmarks in Freeport, depicting the changes local youth go through and some of the activities they are able to take part in.
Learn more about Splashes of Hope here and read the full EPIC Long Island Press Release here.