As 2015 comes to close, we at the Elmezzi Foundation have been reflecting on our accomplishments. This year, our goal was to support more programs, and reach more individuals and families. Thanks to the work of the organizations we support, here are some of the year's highlights:
Elmezzi funding helped serve over 6,400 people in 2015! We have steadily increased the number of people we serve through our programming. Take a look at the number of individuals we have served in the past three years.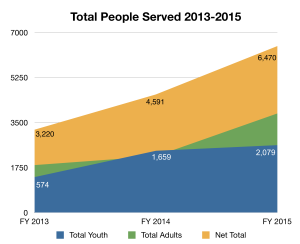 Through Elmezzi funding, grantees such as Legal Outreach, the Sadie Nash Leadership Project, and Theater of the Oppressed NYC were able to bring their unique programming to benefit constituents in LIC and Astoria for the first time.

A new grantee, Mt. Sinai Queens was able to serve over 1600 patients in the pilot year of its Population Health Management program, a launch that was made possible with Elmezzi Funding. The program works with some of the neediest and most vulnerable patients in the community, aimed at preventative and comprehensive health care.

All Dreamers from the "I Have A Dream" Foundation – Ravenswood II program that were eligible to graduate high school in the 2014-2015 school year did so; and, all those enrolled in college began their first semester as undergraduates. We are so proud!

To remain abreast of community needs Elmezzi staff reached out to and met with representatives from over 20 organizations that seek to positively impact Long Island City and Astoria.

In early September we continued our effort to build networks between our grantees and hosted our fourth annual Grantee Convening. Twenty representatives attended a PR and Communications themed workshop facilitated by Anat Gerstein of Anat Gerstein, Inc., a full-service communications firm that works exclusively with nonprofit organizations.

In 2015, the Foundation was recognized by a number of news sources for the work we do in Long Island City and Astoria. Below are a few examples of our press mentions in 2015.
We are proud to be able to fund such an array of amazing programs here in Long Island City and Astoria, as well as throughout the Tri-Sate area. We look forward to the work ahead of us in 2016 and hope that you will continue to stay up to date with our efforts to help people realize the American Dream. Happy Holidays!
-The Elmezzi Team​